We have placed this Testimonial Page at the request of our clients. Many thanks to everyone who has become a part of the Dochlaggie family for your loyal support and friendship.
"I got my very first Pomeranian from Denise 5 years ago and that started my love story for Poms. Denise breeds the loveliest Poms – for pets as well as for showing. Her Poms are not only good looking but have a lovely temperament. You know you get the best of breed when you have a Dochlaggie Pom, and won't be able to stop at only one! " Ginney ( Singapore)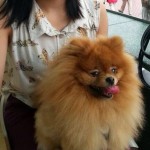 "Hi Denise Leo this is Bobby on his outings with us. Hes such a good boy and always carries a smile on his face wherever he goes hehe. xx Thank you Denise Leo we 'our big family' love him so much and we were so happy to receive this little bundle of joy into our life. Thank you so much Denise, and when we wish to have another little furr friend for Bobby we will definitely come back to your services. . P.s. we will send more pictures soon xx Gloria "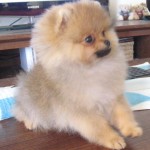 "Dear Denise : Hi, the puppy just arrived at home. he is very cute, me and my wife love him very much. thank you very much! regards dan "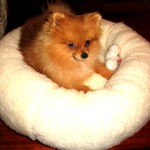 " Hi Denise, We are lucky enough to have one of your beautiful dogs – we bought him in 2005. I am wondering if you are being affected by the floods along the river, and if so would you like any assistance with your dogs. Our Max is very special to us and we would be able to help house some dogs temporarily if required. Hopefully you and your family will be safe and dry. Kind regards Jenny"
" Hi Denise Just letting you know that we absolutely adore the beautiful little bundle of fluff. Thanks you so much for letting him become a part of our family. He's so happy with us… Buzzing around full of beans!!! Lol… Best wishes, Honey "
" I have 2 poms already from you and I just love them.I am interested in the black ones. Thanks Donna."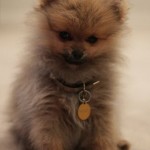 "Hi Denise
Thought I'd send you some photos of Miles. He's growing up to be super cute. He just got his C5 vaccination and is learning tricks very fast! Warm Regards Toni "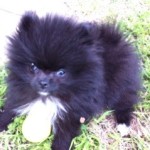 "Just giving you a update on little Hugo, he is going really well already grown so much 🙂 the first night we took him home he didn't cry once which was great..
He had his first puppy clip yesterday and I am taking him in next week for his 12 week vaccinations..
Just another note when are we able to clip his hair to a little shorter as it is getting a little hotter now the poor little fella is feeling the heat 🙂
Thanks so much we adore him and I'll send you pics at a later date.. Thanks Lisa"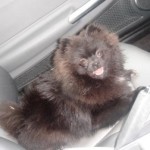 " Hi Denise, I have attached some photos of our beautiful girl. I hope you like them. KInd regards, Danielle "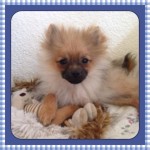 " Hi Denise
Thank you so much for Milo he is a beautiful dog we love him to bits, he is a star attraction everywhere I take him .He is cuddly , sweet and very cheeky and of course spoilt lol.he loves going in the car ,  loves my cats and my other dogs too fitted in so well.so I thank you for Milo, you are a wonderful person and I would recommend you to anyone Who wanted a Pom , you are always giving such good advice about Pom Pom's.  Kind regards Margie"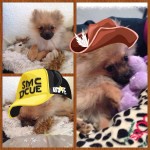 " Just love this little man. Sorry can't stop taking pic's of him. I'm hopeless just love that face. Margaret"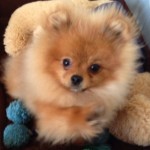 "We've been glued at the hip all weekend Denise 🙂 he is absolute perfection! Could not be happier, thank you so much:. Kate.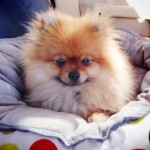 "He's just the sweetest boy. Then again, all Denise's furbabies are gorgeous! Melissa"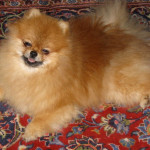 Hello Denise, A few photos on Little Bear's (a.k.a. Peewee) 1st birthday.  I wrote him a cute puppy card and gave it to him.  As you can see I have still not been brave enough to trim him and as yet I have not found someone in the Sydney area who knows how to trim Poms.  If you know of anyone I would be grateful for a contact.  He is 1.8kg now and a delight every day.  Hope things are well with you. Warm rgds" Sandra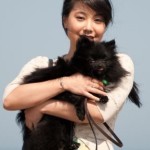 "Hi Denise, I can't believe that it's been a year since we took baby Theodore into our life. He has been a blessing to us. Thank you so much for letting us adopt him." Thao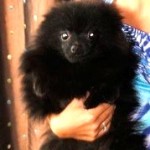 "Here's a pic! He's gorgeous! All black, tiny, with one tiny adorable white spot on his paw. He is a bit hyper now to show I think, but maybe when he is older my daughter would like to give it a try. We'll see if she is still interested in a few months though. I just love having a true quality Pom. And he sure loves me too. We named him Pepsi! Actually my husband named him. And he and Bree are inseparable! He is difficult to keep still for a photo. Bree and I did our best so she could include him on her fourth grade "About Me" project. He is quite a little swimmer! He loves our pool! It is a salt system so it does not hurt his skin or coat. But he jumps in for a swim and then runs right back in the doggie door to mop our tile floor regularly! He is one tiny ball of energy! And since the floor is black tile, we are all tempted to call him Ninja as he literally disappears and then suddenly reappears right by you. " Bo  (U.S.A.)